Another record year is in the books for the World Greatest Collector Car Auctions® and guests of Barrett-Jackson® VIP Experiences got to witness it firsthand.


Barrett-Jackson pushed the pace to start the year at Scottsdale and the momentum carried them all the way through Las Vegas to cap off a tremendous 2019.

As Barrett-Jackson pushes into a new decade in 2020, we're taking one last stop this year to look back on one of the most successful years in the auction company's history.

Here is Barrett-Jackson 2019 in review.
48th Barrett-Jackson Scottsdale Auction
Vehicles Sold: 1,800+
Vehicle Sales Total: $118 million
Sell-Through-Rate: 99.74%
Automobilia Pieces Sold: 1,500+
Automobilia Sales Total: $4.05 million
Charity Car Sales Total: $9.6 million
Top 10 Vehicles Sold:
1. 2019 McLaren Senna –
$1,457,500
2. 2014 Mercedes-Benz G63 6X6 –
$1,210,000
3. 2012 Lexus LFA Nürburgring Edition –
$918,500
4. 2005 Saleen S7 Twin Turbo –
$550,000
5. 2006 Ford GT Heritage Edition –
$533,500
6. 2006 Ford GT Heritage Edition –
$495,000
7. 2006 Ford GT Heritage Edition –
$462,000
8. 1967 Ford Mustang Custom Fastback "Gone In 60 Seconds" Eleanor –
$385,000

/ 1963 Chevrolet Corvette Split-window Resto-Mod Coupe –

$385,000
9. 2011 Porsche 911 GT2 RS – $363,000 1955 Chevrolet Bel Air Custom Convertible –
$363,000
10. 2001 Lamborghini Diablo VT –
$352,000

17th Barrett-Jackson Palm Beach Auction
Vehicles Sold: 632
Vehicle Sales Total: $30.18 million
Sell-Through-Rate: 98.9%
Automobilia Pieces Sold: 258
Automobilia Sales Total: ~$500,000
Charity Car Sales Total: $550,000
Top 10 Vehicles Sold
1.

1947 Buick Super 8 Custom Convertible – $412,500
2.

2012 Lexus LFA –

$352,000
3.

2018 McLaren 720s – $324,500
4.

2017 Rolls-Royce Silver Dawn Convertible – $297,000
5.

1957 Chevrolet Bel Air Custom Hardtop –

$286,000
6.

2017 Dodge Viper ACR –

$286,000
7.

2005 Ford GT –

$275,000
8.

1964 Chevrolet Corvette Custom Coupe – $275,000
9.

1970 Chevrolet Chevelle Custom Convertible –

$253,000
10.

1967 Shelby Cobra CSX 4000 Roadster –

$231,000

4th Barrett-Jackson Northeast Auction
Vehicles Sold: 545
Vehicle Sales Total: $21.8 million
Sell-Through-Rate: 100%
Automobilia Pieces Sold: 470
Automobilia Sales Total: $766,000
Charity Car Sales Total: $2.8 million
Top 10 Vehicles Sold
1. Last-Built 2019 Chevrolet Corvette Z06–
$2.7 million
2. 2008 Mercedes-Benz SLR McLaren Roadster –
$280,500
3. 2019 Chevrolet Corvette Yenko/SC Stage II Convertible Serial #1 –
$258,500
4. 1954 Buick Special Custom Coupe "G54″ –
$220,000
5. 1969 Ford Bronco Custom SUV –
$203,500
6. 1967 Ford Mustang Eleanor Tribute Edition –
$187,000
7. 2016 Jeep Wrangler Unlimited Custom 6X6 –
$181,500
8. 1997 Toyota Supra Anniversary Edition –
$176,000
9. 2017 Dodge Viper GTC ACR –
$172,700
10. 2014 Ferrari California Convertible –
$170,500
12th Barrett-Jackson Las Vegas Auction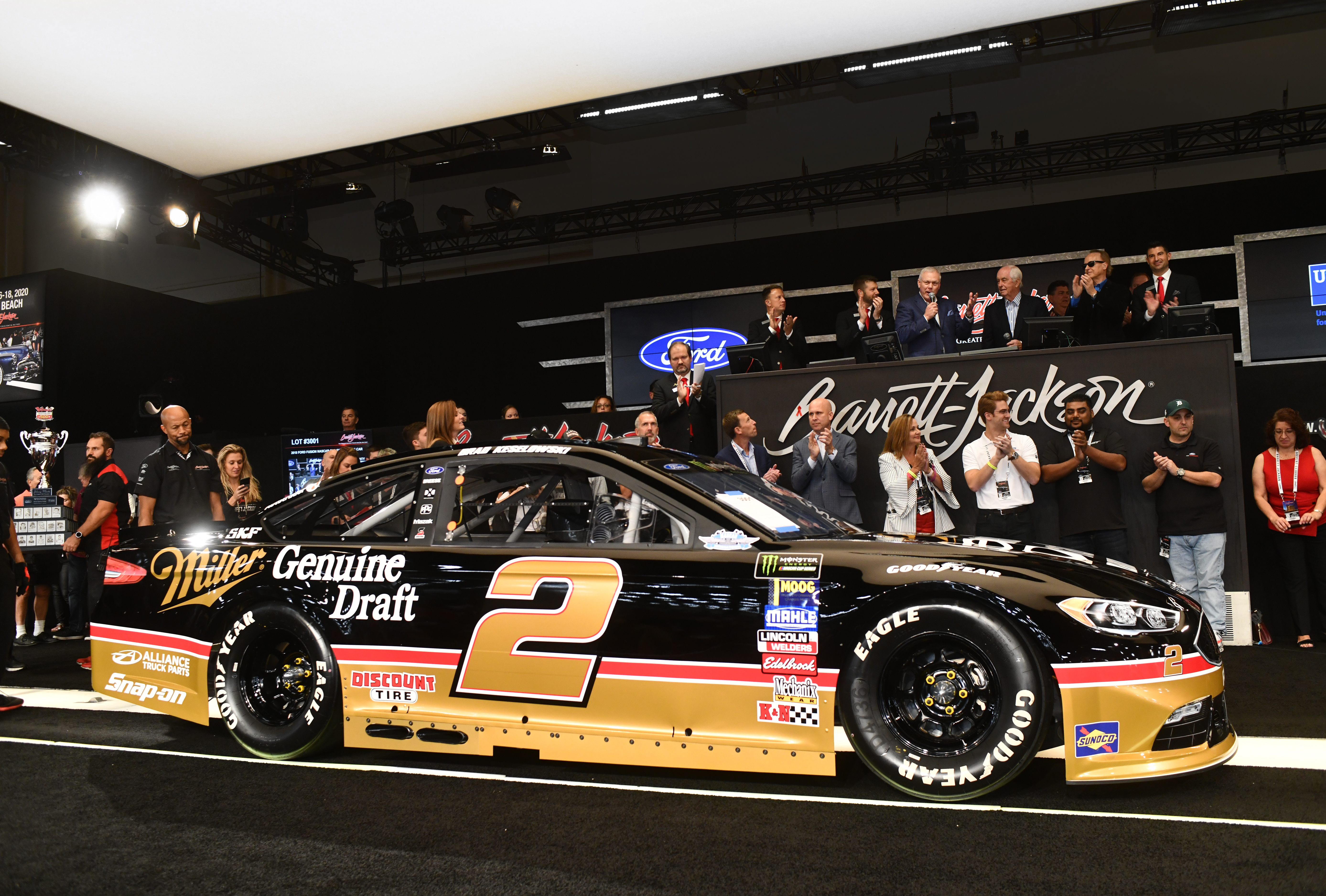 Vehicles Sold: 677
Vehicle Sales Total: $33.3 million
Automobilia Pieces Sold: 352
Automobilia Sales Total: $855,800
Charity Car Sales Total: $560,000
Top 10 Vehicles Sold:
1. 2017 Ford GT '66 Heritage Edition –
$1,540,000
2. 2019 Ferrari 488 Spider –
$368,500
3. 2013 Ferrari 458 Spider –
$330,000
4. 2005 Ford GT –
$324,500
5. 2006 Ford GT Heritage Edition –
$324,500
6. 1953 Chevrolet Corvette 235/150 Convertible –
$275,000
7. 1953 Chevrolet Corvette 235/150 Convertible –
$220,000
8. 1964 Chevrolet Corvette Custom Coupe –
$203,500
9. 1957 Dodge Power Wagon Custom Pickup–
$203,500
10. 1963 Chevrolet Corvette 327/360 Split Window Fuelie –
$187,000